Let's Graduate From Starbucks! Check Out These 3 Unforgettable Coffee Shops in NYC!
Mar 23, 2017 Tara Geigel
Who doesn't love making a Starbucks run? But let's be honest. It can be a time-consuming experience waiting on long lines, possibly getting mediocre coffee, and hard to find a seat and enjoy your coffee. While it's incredibly easy to find a Starbucks anywhere in NYC, there are so many other coffee shops you're missing out on! It took me quite a while to graduate from Starbucks to venture out and try new coffee spots, but trust me when I say it's worth it. Check out these unforgettable coffee shops today!
Coffee Project New York-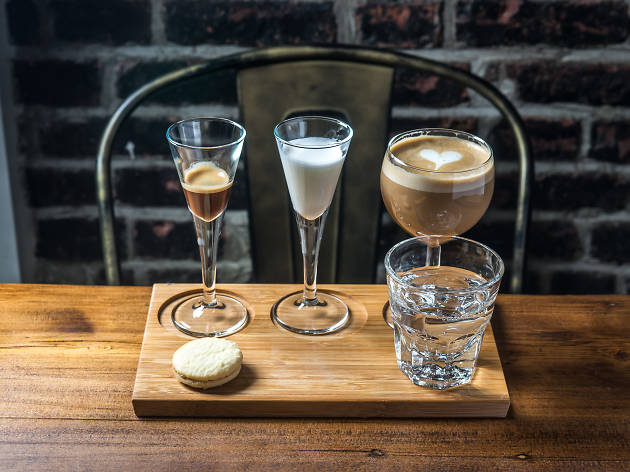 Located in the East Village, the deconstructed latte served here is Instagram-worthy! While the shop is small and does get crowded during rush hour, any coffee-lover will not regret waiting. For those unfamiliar with the concept of a deconstructed latte, it's a shot of espresso, a small glass of steamed milk, and a fully completed latte for you to enjoy. If you're not really a latte fan, you could always enjoy their nitro cold brew, which draws many customers.
For Five Coffee Roasters-
A spot that serves amazing coffee and provides a large enough space in Midtown is unheard of, until you've come to this place! Everything from a mocha latte to cold brew is served here along with breakfast and lunch. The service here is incredibly with baristas eager to answer any question you have to ensure you get the best cup of coffee in NYC.
Café Grumpy-
If you're ever in the Chelsea area, this café is a must-go! While they do implement a no-laptop policy, it's the perfect place to catch up with friends and enjoy an amazing cup of coffee. The cozy atmosphere will make this your new coffee spot!
EventCombo helps you stay in the know about amazing events in your city. If you want to check out events about music, art, fashion, and just about anything you can think of, we're the one-stop-shop website to check out!