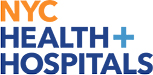 Health + Hospitals/Gouverneur POST-ACUTE CAREER FAIR FOR:
• Licensed Practical Nurse • Staff Nurse • Head Nurse • MDS Coordinator • RN Manager • Nurse Practitioner
Individuals with the following will be strongly considered for on the spot interviews:
Current NYS license and registration as LPN/ RN/ NP, CPR

Bilingual in Spanish or Chinese

Long term/ post-acute experience strongly preferred
---
**PLEASE BRING THE FOLLOWING WITH YOU**:
Current resume

Immunization record

Original: professional license, registration, certification, CPR, highest education/diploma, proof of eligibility to work in US & SS card
We provide outstanding benefits and a competitive salary.
NYC Health + Hospitals/Gouverneur is an equal opportunity employer.
By signing up for this career fair, you may also be notifed about other NYC Health + Hospitals Career Fairs in the future.
Speakers
{{ key == 'null' ? '' : key}}
{{speaker.FirstName}} {{speaker.LastName}}
{{speaker.JobTitle}}
{{speaker.MemberName}}
{{speaker.Description}}
Frequently Asked Questions