SOFA KING FRIDAYS PRESENTS:
Matoma
Facebook | Instagram | Soundcloud | Twitter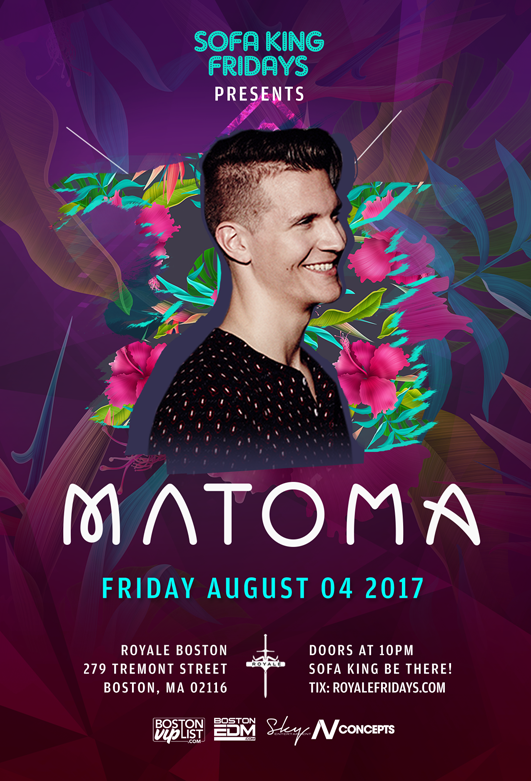 Artist Biography: 
 Norway's Tom Stræte Lagergren (aka Matoma) is a DJ and producer known for his dance-oriented, tropical house music. Born in Asnes, Norway in 1991, Lagergren initially started out playing classical piano in his youth. It wasn't until his teenage years spent listening to his older brother's music collection -- including albums by Paul van Dyk, Tiesto, and Armin van Buuren -- that he became increasingly interested in electronic dance music. After high school, Lagergren, who had already started remixing and releasing tracks online as Matoma, furthered his studies by earning his bachelor's degree in Music Technology from the Norwegian University of Science and Technology. By 2014, he had started to gain international recognition for his Matoma remixes, including cuts for Jessie J, Akon, Enrique Iglesias, and others. In 2015, he scored a hit in Europe with a remix of Notorious B.I.G.'s "Old Thing Back." Also in 2015, Lagergren released his own debut single as Matoma, "Feeling Right (Everything Is Nice)," featuring rapper Wale and Jamaican dancehall singer Popcaan.
Dress:
No shorts / athletic wear / baggy or oversized clothing / hats / flip flops / boots / hoodies
21+ Valid ID Required 
Royale
279 Tremont St
Boston, MA 02116
Management has the right to refuse entry
No refunds of any kind / All sales are final
Brought to you by:
Boston EDM
Boston VIP List
NV Concepts
Speakers
{{ key == 'null' ? '' : key}}
{{speaker.FirstName}} {{speaker.LastName}}
{{speaker.JobTitle}}
{{speaker.MemberName}}
{{speaker.Description}}
Frequently Asked Questions