Imbibe wine 🍷 paired with MORA cuisine
while you educate your wine palate! Join us for a 4-course pairing event on Wednesday, December 22nd, 6:30-8:30pm at
Mora Asian Fusion
, Plainfield.
DINE & IMBIBE
1. First Course  
• Prosciutto & Melon Wraps
• Dates wrapped in Spanish Chorizo
• Brie Cheese with Truffle Sauce
 Paired With: RIVER RANCH Chardonnay 
Aromatic floral notes on the nose, balanced with butter and crisp green apple  
2. Second Course (two half rolls)
• SURF N TURF ROLL / grilled lobster, asparagus, seared sirloin with truffle vinegar  
• SHRIMP & TUNA ROLL / cooked shrimp, spicy mayo, topped with spicy tuna, kale tempura crumbles, and unagi sauce
 Paired With: ESTATE Cabernet Sauvignon 
Deep, dark berries, spice and hint of black plum, pepper and cherry  
3. Third Course
• EARTH & OCEAN / Big-eye tuna goat cheese, apples, dashi vinegar, black lava salt  
PAIRED WITH: ART'S NEMESIS Rosé 
Bursting with fresh berries, floral notes and bright citrus 5. OCG Apple Cider

4. Fourth Course
• HOUSE MADE APPLE STRUDEL / served with vanilla whipping cream

PAIRED WITH: MORA's Dessert Craft Cocktail made w/ 
ART'S NEMESIS Rosé 
EDUCATE
• Become a wine connoisseur! HOUSLEY Century Oak Winery sommelier will share their extensive knowledge to elevate your 🍷🍷🍷 palate.
WHERE
• MORA Asian Fusion, Plainfield
WHEN
• Date: Wednesday, December 22nd
• Time: 6:30-8:30pm
Cost: $80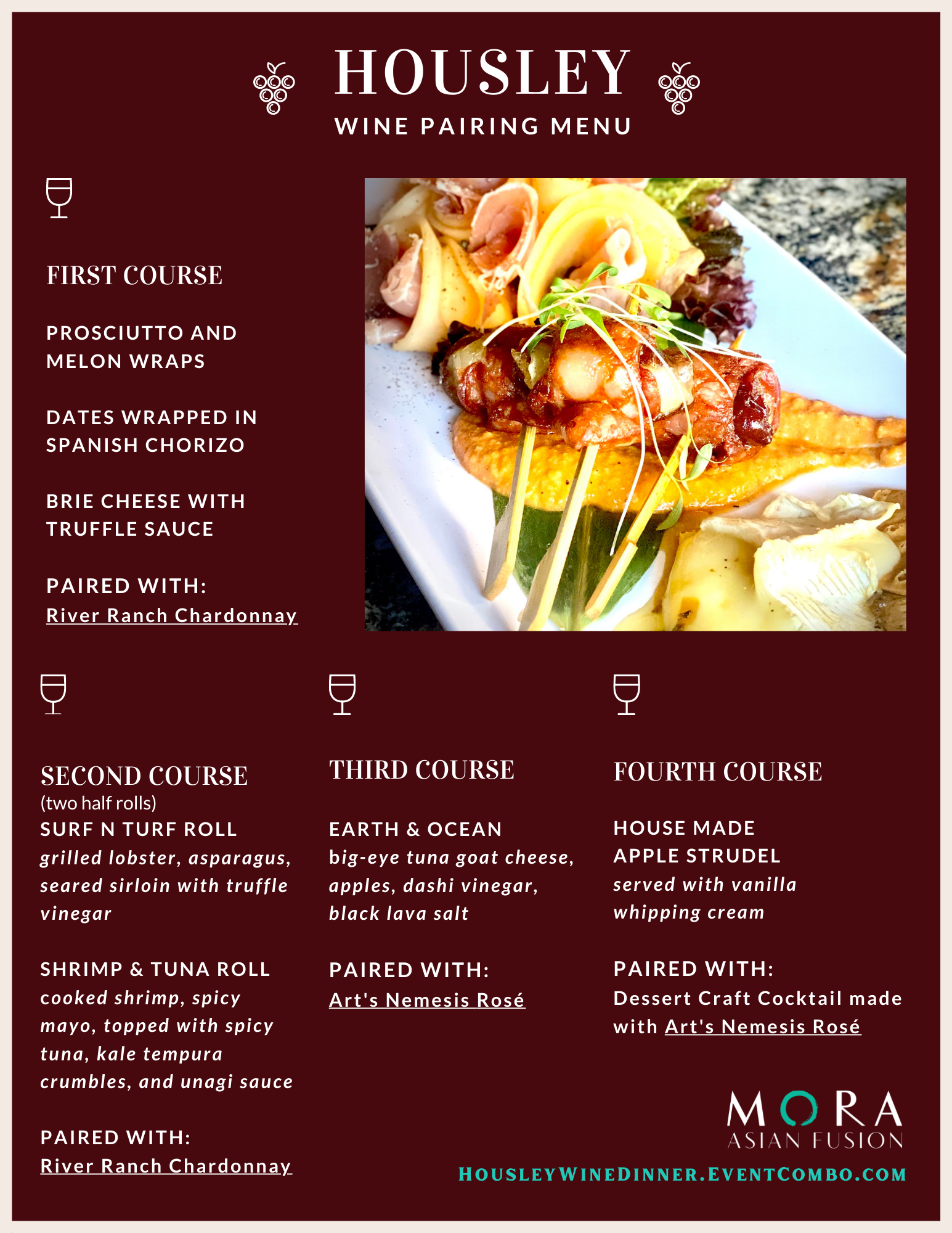 Speakers
{{ key == 'null' ? '' : key}}
{{speaker.FirstName}} {{speaker.LastName}}
{{speaker.JobTitle}}
{{speaker.MemberName}}
{{speaker.Description}}
Frequently Asked Questions