SOFA KING FRIDAYS PRESENTS:
Gorgon City
Facebook | Instagram | Soundcloud | Twitter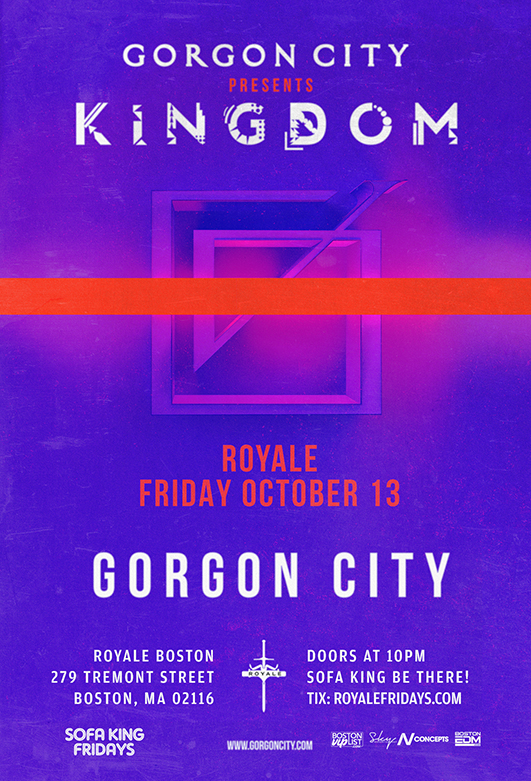 Artist Biography:  
Since the coming together of Kye (Fomao) & Matt (Rack'n'Ruin) in 2012 things have snowballed at a barely comprehensible rate for Gorgon City. Signed to the mighty black butter records, the beginning of Gorgon City coincided with the label's explosion into the mainstream, spearheaded by label mates Rudimental. While working on their second LP release, they tour the globe with an insatiable appetite, winning over crowds with their DJ sets and full live show from Ibiza to Tokyo, hitting every major music festival across UK, Europe and n. America along the way.. "There wasn't one point where it wall went crazy" says Kye Gibbon; "Let's just say it's been a steep incline!" If there's a summation of the current situation of Gorgon City – the duo of Gibbon and Matt Robson-Scott – this is it. The pair have achieved quite startling success, from a run of chart hits and star collaborations at home to an international presence that increasingly sees them getting stuck into hard touring and playing to enormous crowds of dedicated fans around the world. But there's never been a single "breakthrough moment" for them, rather a continual accumulation of achievements. This has been based on an intense work ethic and understanding of their audience, but also on a willingness to experiment and step out into the unknown – as they're doing now with the gradual release of their new project week by week throughout 2016 – something which stands them in good stead as they get ready to settle in for the long haul. The past year and a half since Sirens, Gorgon City's debut album, has definitely been crazy, though. Co-curating a compilation album with Pete Tong, remixing and collaborating with long-time heroes like Basement Jaxx and Underworld, creeping ever-higher on the billing in US and UK festivals, embarking on a proper transcontinental tour of the USA in two tourbuses over the best part of a month, untold DJ dates, and still finding time to conjure up and embarrassment of riches in the studio: there's scarcely been a moment for the pair's trainers to touch the ground. Yet there is not a sign of jadedness from them yet. If anything, the new material shows them settling into their groove and being more confident in branching out in all directions, from main-stage bangers to underground club groovers, 21st century hyper-pop to twisted acid house and righteous breakbeat, it's the sound of two young men still having the time of their lives. It's worth noting that when they met via their shared DJ agent and formed Gorgon City in 2012, the two had already put the hours in, both in the studio and out behind the decks: Gibbon as Foamo and Robson-Scott as Rack'n'Ruin. Both had been dance music obsessives from their early teens – each falling hard for drum'n'bass first, then broadening out in their tastes as they found their way in DJing and music production. All of this gave them a solid understanding of the depth and breadth of the dance scene, and when they found their working process as a duo, it made Gorgon City a formidably strong and adaptable musical unit from the beginning. So when they got the support of Virgin EMI via the legendary Black Butter imprint (which also broke the likes of Rudimental, Clean Bandit and Jessie Ware), it was not a matter of a leftfield act breaking into the mainstream, but rather just another level up on that "steep incline" of success. All of this prior experience and paying-of-dues helped them immeasurably, too, when it came to avoiding getting caught up in the cycles of hype. As their singles began charting and their profile rose, a wave of bass-heavy house/garage was sweeping into popular culture. "If you looked at the charts when [their biggest hit, featuring MNEK, at the start of 2014] 'Ready for your Love' came out," laughs Robson-Scott, "you might easily think we were part of a bigger trend. It's been very important to us to prove otherwise!" Of course, anyone who's heard Sirens – or even the diversity of tracks on their early EPs – can understand that the depth and richness of Gorgon City's productions, and their ability to construct songs and tie them together into an album, marked them out as far more than another team of lads with laptops jumping on the current sound. But there was another weapon in their arsenal, one just as important in marking them out as an act capable of real longevity: their ability to take it to the stage. The experience of being a band, as opposed to purely a production team, has clearly been transformative for the duo. It's been a wild ride of playing American festivals like CRSSD, where they've witnessed the gradually maturing tastes of Generation EDM getting more and more receptive to their sound, winning over a huge and growing fanbase in Mexico, and realising how much resonance their music has around the world. Working with a team of musicians has given them a huge boost, both in terms of musical practice and in solidifying the identity of Gorgon City. Watching them reminisce about their American touring experiences – where they lived, played and partied with a regular team of some 16 people including band, crew and support DJs – you can see them light up with a sense not just of achievement but of possibility. As they've gelled with the onstage musicians and their singers Lulu James and Josh Barry, they've got bolder in their musical choices: "when we jam on stage," says Gibbon, "and there's the excitement and feedback from the audience, we naturally make sounds a bit more extreme, tweak a synth riff a bit more, extend a breakdown, or whatever – or our drummer will add a load more variation to the rhythm pattern – and of course you go back to the studio and think, well, we can make the track sound like that too!" Meanwhile, the two have continued DJing, solo and together, and this too feeds into their creative process. Band touring can be all-consuming (soundcheck to stage to after party to tourbus, waking up in the next city ready to soundcheck again – sometimes only with a half-awake glimpse of endless prairie to remind them they're really traveling), but jetting to DJ gigs gives plenty of solo laptop time, and the two are still enthused by being able to create a track in transit and rock a crowd with it that same night. They've extended their musical networks now, too, so are able to farm their deeper and darker tracks out to underground to ultra-cool labels like Crosstown Rebels, further extending their reach and better preventing themselves from settling into any one creative rut. All of which feeds into their new music, which is bigger, bolder and more diverse than ever. And also, crucially, it's given the sense that no one part of the package is more important than the other. The big vocal tracks, even if they chart, are no more important than the rugged underground tracks they populate their own DJ sets with. Those DJ gigs, which keep them plugged into the global underground, are just as important as the huge shows with fans singing along to every word. Each element is a part of the ongoing experiment, constantly finding out what the place of Gorgon City in the modern landscape is. That's why they're trying out the method of rolling their tracks out, week by week, through this spring and summer, culminating with an album release in September. Each track, just like each gig or each DJ set, is another step up the steep incline, another part of Gorgon City's rise.
Dress:
No shorts / athletic wear / baggy or oversized clothing / hats / flip flops / boots / hoodies
21+ Valid ID Required 
Royale
279 Tremont St
Boston, MA 02116
Management has the right to refuse entry
No refunds of any kind / All sales are final
Brought to you by:
Boston EDM
Boston VIP List
NV Concepts
Speakers
{{ key == 'null' ? '' : key}}
{{speaker.FirstName}} {{speaker.LastName}}
{{speaker.JobTitle}}
{{speaker.MemberName}}
{{speaker.Description}}
Frequently Asked Questions