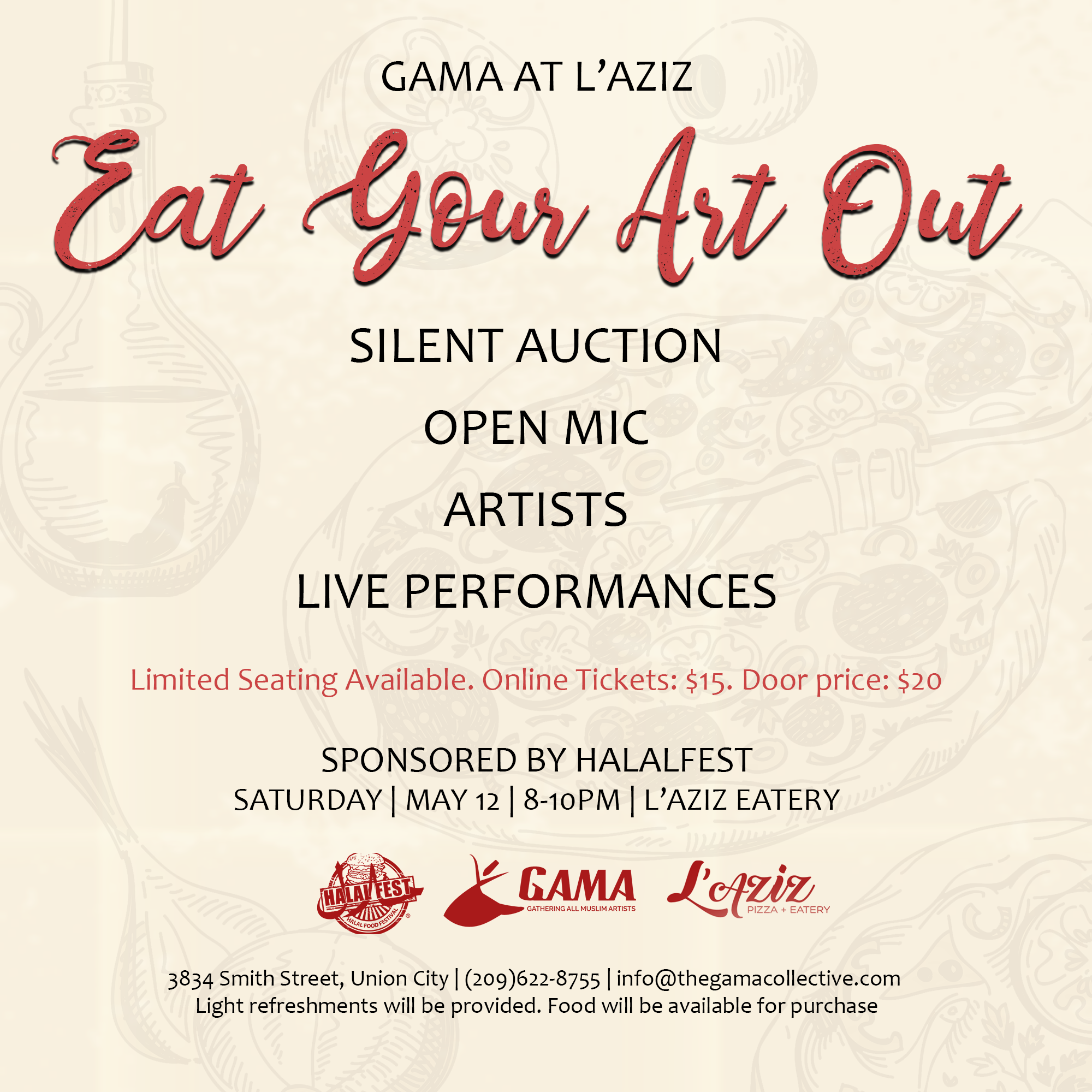 Eat Your Art Out! sponsored by Halalfest

We are officially launching the GAMA Gallery at L'Aziz in Union City. This Halal restaurant will feature the GAMA Gallery which hosts artwork by local Muslims year round. We will also be featuring some of the artists whose work is in the gallery, as well as a silent auction on the artwork.

In addition, we will have an open mic. If you are interested in performing, please email us at info@thegamacollective.com. 

Our featured performers include: 
-Nasheed/Salawat by Brother Uthman Ames
-Poetry by Brother Roger Rojas
-More to be announced!

Featured Artists include:
-GAMA Artist Fahd Butt
-GAMA Artist Nafiseh Mirnezami
-More to be announced!

There will be light refreshments available, but food from L'Aziz will also be available for purchase. We highly recommend bringing some extra cash, but don't just take it from us, check out their Instagram: www.instagram.com/eat_laziz so come hungry! 

If you are an artist and are interested in showcasing your artwork or being involved with the GAMA collective, please click JOIN US on our website: www.thegamacollective.com

For any questions, concerns or suggestions, please email us at info@thegamacollective.com
_________________________________________________

Poet Roger Rojas: a 23 year old Bay Area Native. The youngest of 5. Both parents being immigrants. With his father being born in Mexico and Mother being born in Cuba, he was able to see the amount of dedication and hard work his parents put in to survive in America. While trying to escape the trap of vices that surrounded his environment growing up; in 2015 he was blessed from The Most High to become a Revert of Islam, his poetry reflects the aspects of former and current life. Transitions from darkness into light, you are able to hear his poetry and see it come to life as if you were there in the moment. He is currently working on a poetry book titled "When Darkness Met Light" and God willing is set to be released later this year. He intends to spark changes in society, encouraging the youth to steer away from the evils of life so they may understand it isn't glamorous like they are portrayed, and show his peers and elders that it is never too late to build a connection with their Creator. 
Nasheed Singer Brother Uthman Ames is a Registered Nurse at Kaiser Hospital. He grew up in San Diego, CA and in the year 1998 he converted to Islam. Shortly after his conversion he moved to the San Francisco Bay Area. Since then he has learned various Nasheeds and melodies. He regularly sings at Taleef Collective for their weekly mawlid, and has traveled around the country to perform with many renowed Nasheed artist. 

More bios and spotlights to come!
__________________________________________________

Event Sponsor: Halalfest. Halalfest is an annual festival that will occur on June 30th this year in Fremont. You don't want to miss it! Follow Halalfest on Instagram to keep up to date (www.instagram.com/halalfest) When not organizing the annual festival, Halalfest is a big supporter of community events and initiatives and promoting Bay Area Halal options through social media!