These are uncertain times. Sharing our direct knowledge of our experiences is crucial for us all to work smart during the coming months
Over the next three months, we're bringing the content of Future of Good to life with engaging and informative webinars, always starting at 12:00 pm ET 9:00 AM PT.
We're dedicated to providing you ideas, analysis, and commentary from real people who are actively taking on these new challenges around the world and right here in Canada, and to connect each other through engaging and insightful panel discussions with those shaping the world of social impact.
These one-hour conversations will help you navigate the changing landscape with confidence and learn from the impact of other organizations while mastering your understanding of new developments shaping the social sector.
OUR NEXT WEBINAR: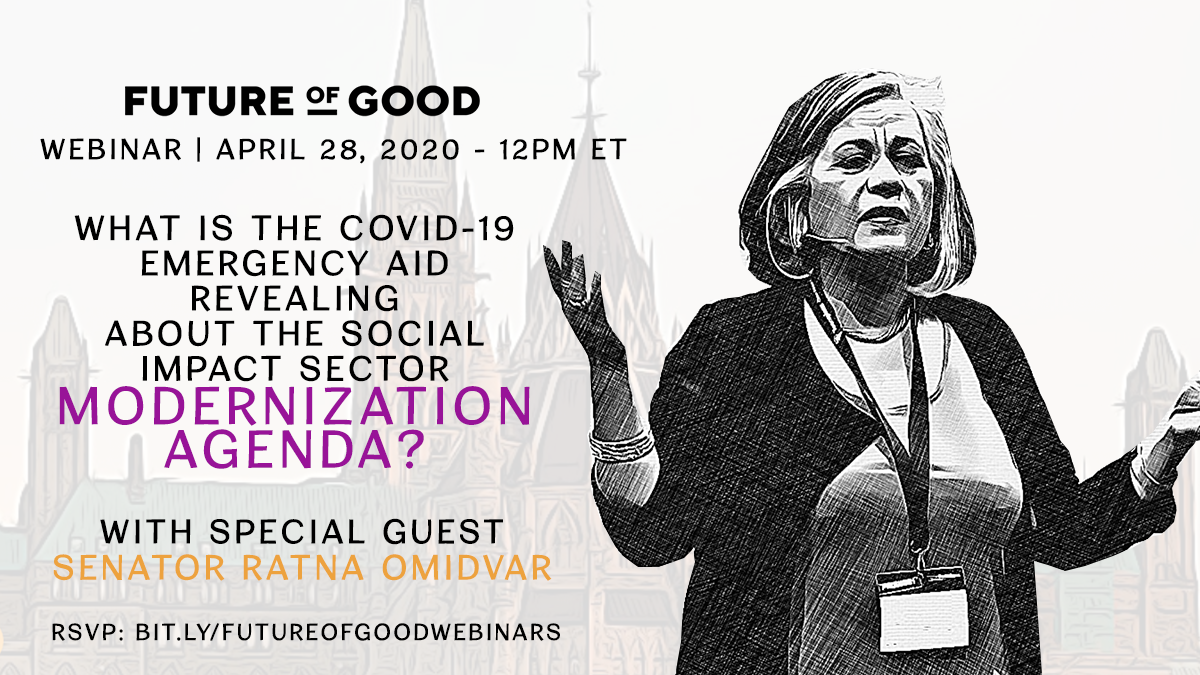 April 28: What the COVID-19 emergency aid is revealing about the social impact sector modernization agenda. Special guest: Senator Ratna Omidvar
In June 2019, the Canadian Senate released Catalyst for Change: A Roadmap to a Stronger Charitable Sector, a first-of-its-kind report for non-profits and charities. With 42 recommendations in a range of areas, this synthesis is the extraordinary work of senators who engaged a range of funders, executives, frontline professionals, volunteers, and public servants in order to understand the opportunities and pain points facing the sector.
It's only been 9 months since the report was released but it feels like the world has changed—our institutions, frontlines, funding tools, service delivery, and advocacy will not be the same. So, what does this mean for the recommendations and the report? What recommendations are worth revisiting as a result? What is the pandemic crisis revealing about gaps in the modernization agenda from 2019? What are the lessons in preparedness and adaptation for the sector?
Future of Good publisher and CEO Vinod Rajasekaran speaks with Senator Ratna Omidvar in an insightful, forward-looking conversation.
UPCOMING WEBINARS:
May 1: Does the non-profit and charitable model we have really work? When we need our infrastructure the most, during an economic downturn, charities and non-profits are at their weakest. Is this model, tied to the economy, the right one?
Choose the topic that most resonates with you and we'll see you there. Interested in more than one? Join us for all of them.
Questions? Contact community[at]futureofgood[dot]co.
PAST WEBINARS:
April 7: Serving the most vulnerable. How do we build systems for care and support when the world is forced into going digital and those we serve don't have access?
Panelists
Maureen James – Community Investment Program Manager – CIRA, Deirdre Gibson – Orillia Christian Centre o/a The Lighthouse. Project: Building Hope, Nasma Ahmed – Director, Digital Justice Lab, Joanna Kerr – CEO, Tides Canada, Landon Hoyt – Director, Binners' Project, Janet Fitzsimmons – Manager, Grassroots Leadership Strategies, Connected Communities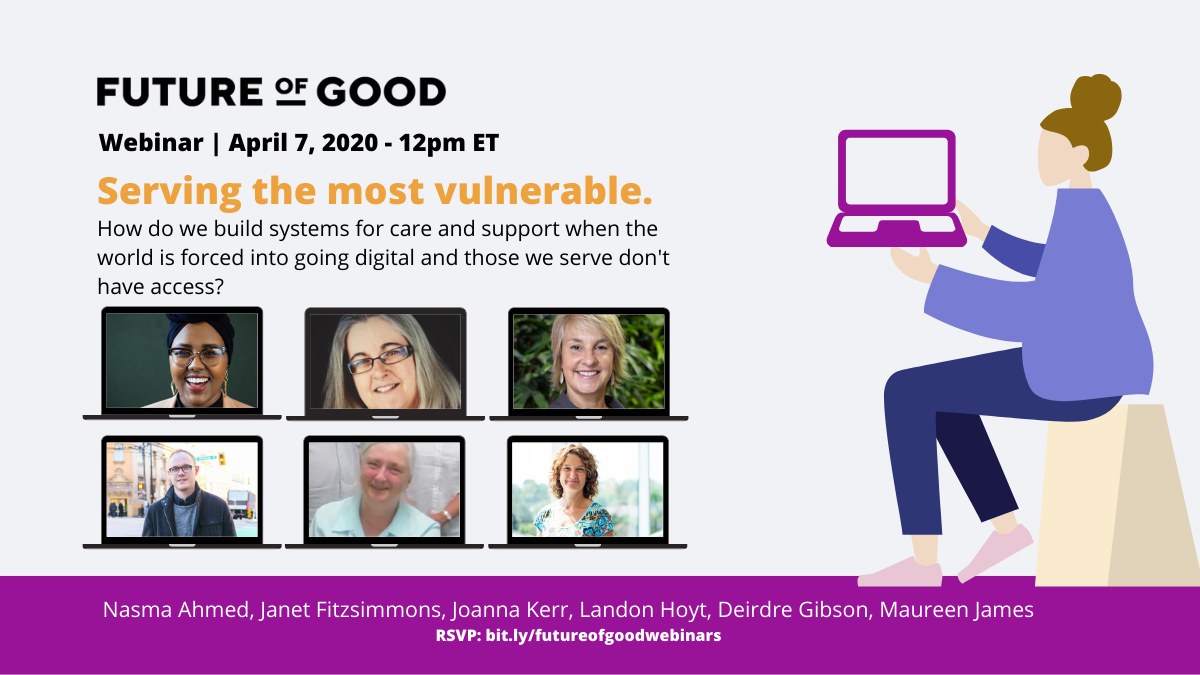 March 27: What's missing in the federal government's aid package? We bring a panel of young leaders together and ask what's missing? What are you excited about with this funding? Where do we need more support?
Panelists
Alexander Dirkson – Vancouver, Cameron Choquette – Saskatchewan, Sydney Piggott – Toronto, Kevin Vuong – Toronto, Katie Miller – Ottawa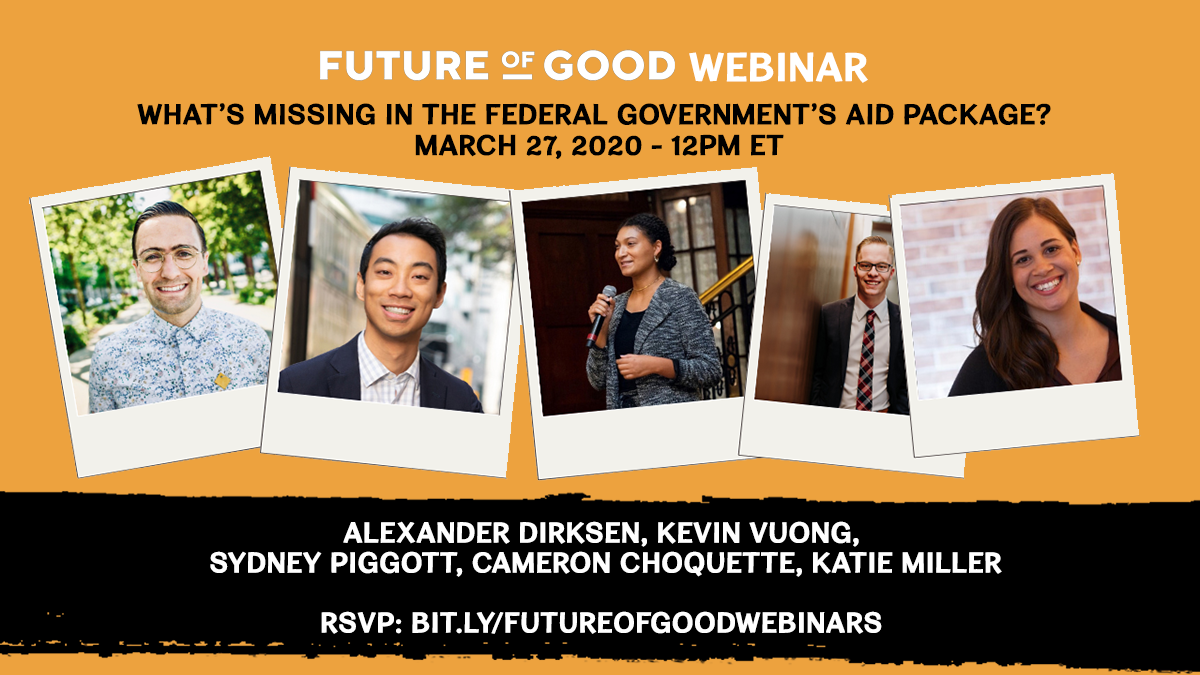 Speakers
{{ key == 'null' ? '' : key}}
{{speaker.FirstName}} {{speaker.LastName}}
{{speaker.JobTitle}}
{{speaker.MemberName}}
{{speaker.Description}}
Frequently Asked Questions