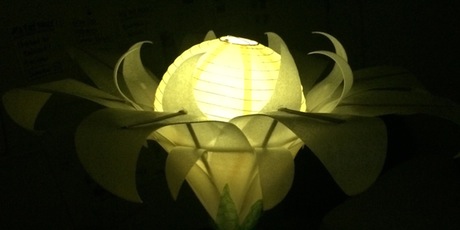 This lantern workshop is hosted by Chantelle Rytter and the Krewe of the Grateful Gluttons for the 7th Atlanta BeltLine Lantern Parade on September 10, 2016! Hold up a light for the BeltLine! Your creative participation is what makes the magic! Check out the Lantern Parade Game Book, FAQ's, photo gallery and the complete Lantern Workshop Series at Art on the BeltLine..
These are new! We are going to build a bamboo frame based on a stick with a 10" globe lantern center. The petals are made of white underlayment that has some rigidity and a natural curl. They are hot glued to the frame. This project has lots of tracing and cutting and hot glue. It may be really boring for kids. All materials, light, and batteries included. You are welcome to bring a beverage and a snack. Children must be accompanied by an adult at all times. Tickets are per daisy. (ie. Bill and Steve are making one daisy together. They only need one ticket.) Tickets are non-refundable. Please do your best to be on time. Thanks!
The entrance to the parking lot and the Fellowship Hall are on Mell Avenue, the street on the west side of the church. Google Earth shows it. Look for the Lantern House sign!
Questions? Contact Chantelle Rytter | c@chantellerytter.com | 678-612-2570
Take a look at the Lantern Workshop Gallery, other lantern ideas, and some of the great lantern parades around the world at www.chantellerytter.com
View All
{{SocialPostFeed.SocialFeedTitle}}
#{{hashtag}}