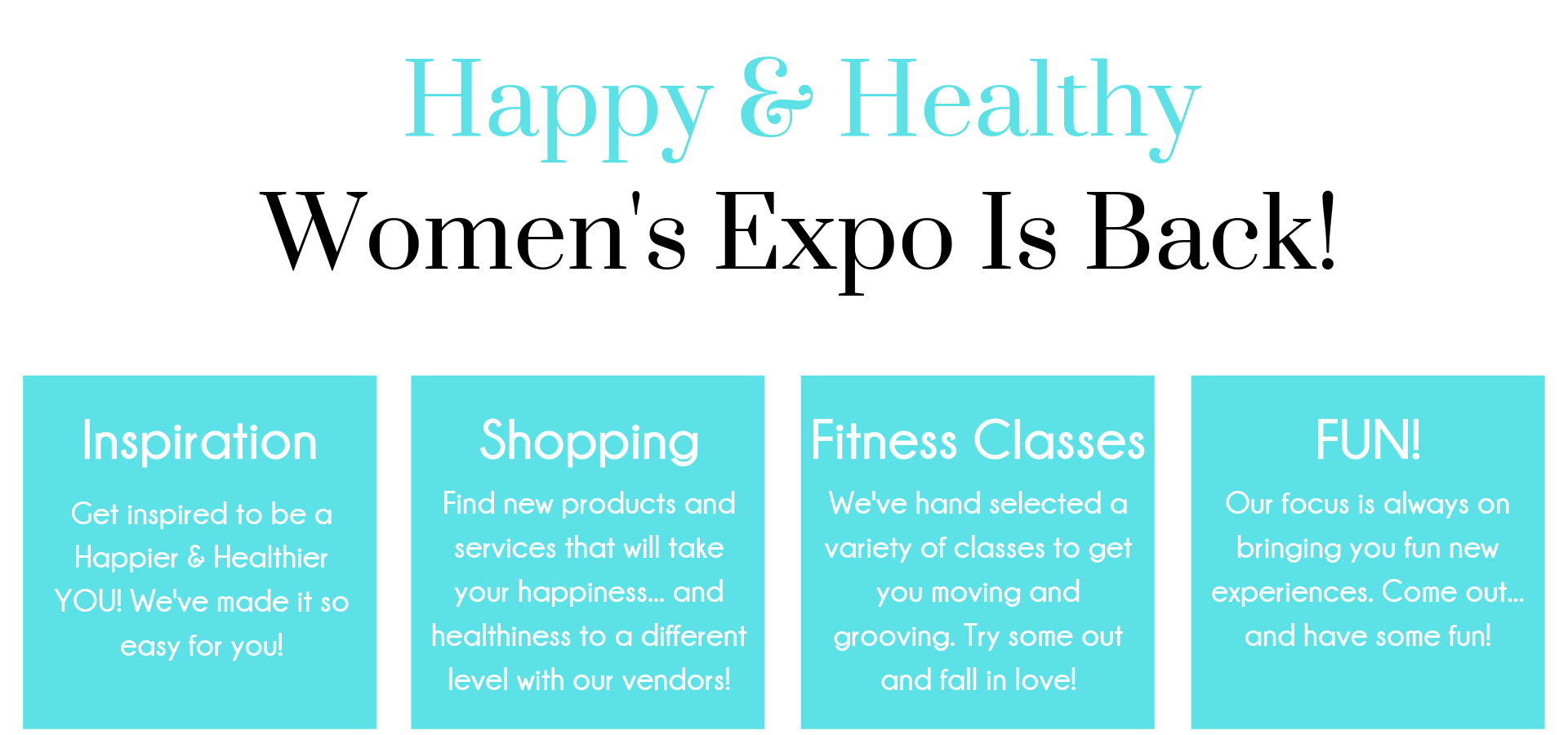 NEED A NUDGE IN A HEALTHY DIRECTION? ✔️
ENJOY INTERACTIVE CLASSES?✔️
JUST WANNA HAVE SOME FUN?! ✔️
We want all women to have the option of staying happy and healthy, and that means you!
Join us at our 4th Annual Happy & Healthy women's expo! We've made finding time to take care of yourself easier than ever! With over 50 health and happiness related businesses on display, fun and educational class sessions, a main stage with interactive presentations and samplings and an amazing VIP ticket, YOU CAN'T MISS THIS EVENT!
"This is my first event with Induo, which means to plan in Latin, and so far, I'm enjoying visiting all of the vendors related to health and wellness, taking personal classes, and meeting all of the entrepreneurs at this event," said Tiffany Carter, an attendee at the event." "I really believe that it's good for women to get out and see what resources we have to take care of ourselves, both mentally and physically. I've enjoyed this Induo event and I look forward to more."  Check out last year's Happy & Healthy Expo in the Daily Herald https://tinyurl.com/induoshappyandhealthy

$20 VIP tickets are available NOW in a limited quantity! VIP includes all of the things you just gotta have at the 4th Annual Happy & Healthy expo! What's included? A swag bag full of goodies, 10 raffle tickets and access for 1 to the VIP ONLY area of the event for all kinds of healthy snacks and other surprise goodies.  VIP Tickets will sell out at $20 so get yours before they're gone!

Class descriptions will be posted on the FB event page and our website as they become available.

---
STAY TUNED for the 2020 Event Sponsor list! These were the 2019 sponsors!

2019 Event Sponsors:
Bada Bean Bada Boom
Bobo's
Imperfect Produce
Costco Naperville
Makeup by Estee Lauder
Advance Sports Therapy
JanaBanana
Naomi's Day Spa
Raksanna Productions
Calla Lily Salon & Spa
N'awlins Edibles Catering
Passionette Palate
Angela Victoria Irwin
Fred Astaire Dance Studio (Glen Ellyn)
Jazzercise Naperville
The Emperor's Medicine
Edge Yoga
Great Lakes Straws
AND MORE!

Visit Induo Event's Facebook page for more event listings or www.induoevents.com.

Disclaimer: By attending this event, you are agreeing to allow yourself to be photographed and/or filmed for the use in our marketing materials.
Speakers
{{ key == 'null' ? '' : key}}
{{speaker.FirstName}} {{speaker.LastName}}
{{speaker.JobTitle}}
{{speaker.MemberName}}
{{speaker.Description}}
Frequently Asked Questions