First of the year strawberries are a seasonal highlight, especially in the Pacific Northwest! Capture the essence of those sweet berries with a preserving and canning class with Andrea Christensen. In this class, we'll make a variety of strawberry preserves and jams including classic strawberry jam, classic strawberry preserves, strawberry & lavender jam, and rhubarb & strawberry jam. Class includes tips and techniques for low-sugar, no-pectin preserves, low-sugar pectin jams, as well as water-bath canning fundamentals. We'll finish class by enjoying the fruits of our labor with fresh baked bread and biscuits. Jars will also be included for guests to take a sampling of jams home.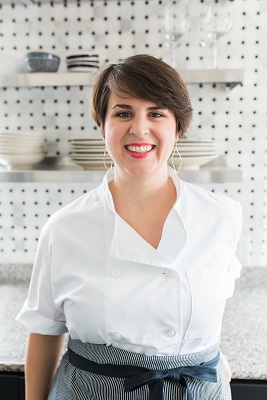 Instructor: Andrea Christensen, Juniper & Rye Kitchen

Andrea is a born and raised Washington native who is passionately curious about food and her community, both near and far. Her cooking is heavily inspired by Mediterranean food, although Andrea finds joy in almost all food. She has a special passion for making pies. Andrea spent 10+ years in the corporate world, but these days you'll find her canning her heart out, teaching and cooking for friends, and connecting with fellow entrepreneurs. Andrea's classes are like coming to dinner at your best friend's house—we cook a little, you help chop the veggies, Andrea shares her secret ingredient for her bolognese (hint: it's cinnamon!) and, most importantly, we eat together. Join Andrea in the kitchen to learn a new recipe, share a meal around the table, make new friends, and join in the creation of something delicious!
Registration is required in advance for culinary programs. All proceeds benefit educational programming at 21 Acres and initiatives related to accelerating social change toward more sustainable ways of growing, eating and living that protect the environment while supporting a better quality of life.
The more the merrier! Our culinary classes are twice as much fun when they're full. 21 Acres reserves the right to cancel any class that fails to meet the minimum enrollment numbers required for teacher participation. 21 Acres may also cancel classes due to chef illness or inclement weather. If 21 Acres cancels a class, students will be notified and a full refund will be mailed or a credit issued on the credit card used. Learn more about 21 Acres' cancellation and refund policy.
Be a conscientious commuter—walk, bike, carpool or bus to 21 Acres events whenever possible.
Speakers
{{ key == 'null' ? '' : key}}
{{speaker.FirstName}} {{speaker.LastName}}
{{speaker.JobTitle}}
{{speaker.MemberName}}
{{speaker.Description}}
Frequently Asked Questions