Welcome to the most exclusive underground late night show in Las Vegas that everyone is talking about...but not everyone can get into...

As Seen On...

BLACK MAGIC WEDNESDAY with Shock Illusionist Dan Sperry : Anti-Conjuror Exclusively at THE GRIFFIN, LAS VEGAS
AN INTIMATE ENCOUNTER WITH SLEIGHT OF HAND, ILLUSION, AND A TWIST OF THE BIZARRE...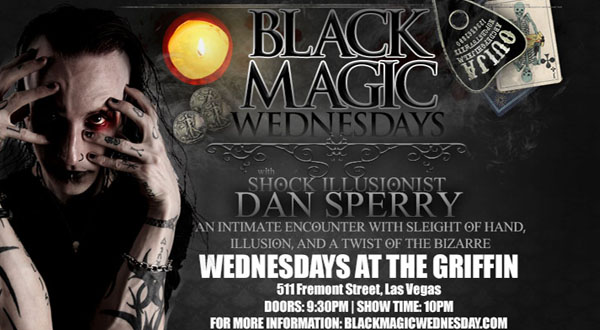 ABOUT THE SHOW:
BLACK MAGIC WEDNESDAY is a one-of-a-kind experience to Las Vegas that you can only witness at The Griffin. The show is limited to only 40 spectators and is a combination of sleight of hand, illusion, and a twist of the bizarre. This is NOT your normal magic show. You get an up close and interactive experience that you will never forget! The magic doesn't just happen in front of you - it can even happen in your own hands!
Forget the standard magic tricks with cards, fancy boxes, and a tuxedo. During BLACK MAGIC WEDNESDAY the audience gets to experience world-renowned Anti-Conjuror Dan Sperry present his signature blend of Shock Illusion where they will participate in a bizarre VooDoo ceremony...have their own phobias and fears come to life in an experiment in mass hallucination...an encounter with the supernatural...this along with razor blades and even candy combine to guarantee you a night out where you will just have to keep telling yourself it is only an illusion...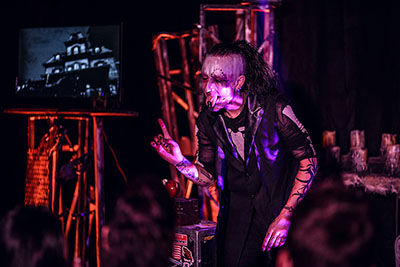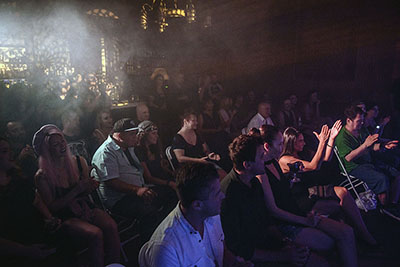 HOW TO GET IN:
BLACK MAGIC WEDNESDAY takes place in the secret back room of the infamous GRIFFIN bar and cocktail lounge on East Fremont street in downtown Las Vegas. Because the show takes place at The Griffin you must be 21+ to get in and it is highly recommended you arrive before the secret door is opened for seating at 9:30pm. Upon your arrival you will be met at the main entrance by the venue's bouncer to check IDs and once you are inside the bar make your way to the back hallway where one of Dan's crew members will give you your ticket with free drink tear-away coupon to be redeemed at one of the bars. If you arrive before the secret back room is opened feel free to have a seat in the main foyer seating area and have a cocktail.
At 9:30PM the door will open and you can enter and claim your seat. Seating is on a first come basis so it is suggested you are there early so you and your date or group can stake your claim for the show. The back room bar will be open as well during the 30 minute seating phase so you can walk up and order a second "show drink" in time for the beginning of BLACK MAGIC WEDNESDAY.

ABOUT THE MAGICIAN:


Shock Illusionist Dan Sperry : The Anti-Conjuror is hailed as the most popular and in-demand illusionist of this generation. As a result of his jaw-dropping performances on multiple record-breaking international tours, numerous network television appearances, and some of the most underground viral videos to ever plague the Internet, his legion of hundreds of thousands of dedicated fans span all ages and demographics.

Combining the art of magic with the macabre, his totally unique and edgy illusions initially capture the imagination of crowds across the globe. But it is his unhinged, shockingly eccentric humor and audience interaction that makes his live show a truly unique experience that has been dubbed, "Totally icky, yet totally awesome", "...Left me laughing to tears. The cynical Alice Cooper of Magic", and one that "Has audiences laughing and shuddering in equal measure".

From starring in the best-selling magic show in Broadway history The Illusionists, sky-rocketing ratings on America's Got Talent, Germany's hit series Das SuperTalent, FOX's World Magic Awards, and TLC's Cake Boss, to selling out countless performance venues around the world, Dan Sperry presents a magic show for people who love magic shows but an even better show for people who hate magic shows. The Anti-Conjuror is not for the faint hearted: Magic No Longer Sucks.
Learn More About Shock Illusionist Dan Sperry: http://dansperry.com
*Must Be 21+ // Your free drink with ticket purchase is good for any one of the following from our sponsors: Any Ketel One mix drink or Joseph James Citra Rye beer*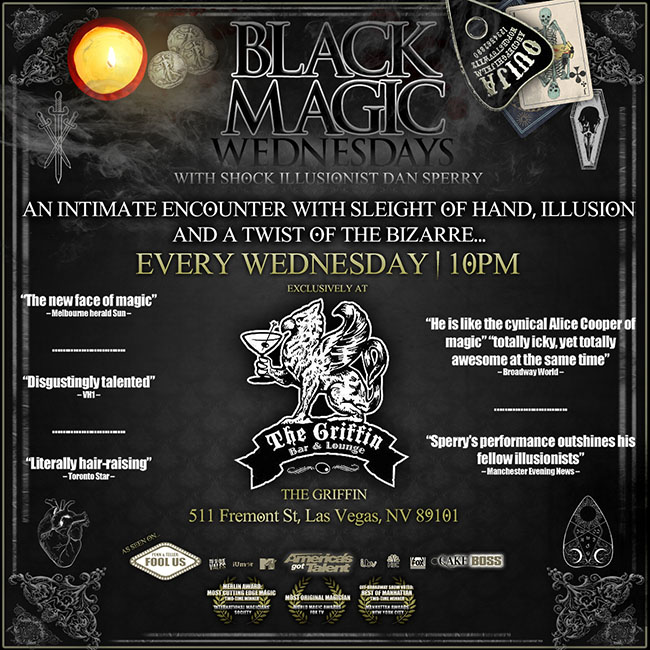 FAQs
Are there ID or minimum age requirements to enter the event?
Yes, must be 21+ with valid ID
What are my transportation/parking options for getting to and from the event?
Uber/Lyft or other forms of rideshare is always best there is plenty of public paid parking downtown in various lots or hotels within one block walking distance.
Do I have to bring my printed ticket to the event?
Yes please bring a printed copy of your ticket to have it exchanged for a physical ticket with drink coupon.
Speakers
{{ key == 'null' ? '' : key}}
{{speaker.FirstName}} {{speaker.LastName}}
{{speaker.JobTitle}}
{{speaker.MemberName}}
{{speaker.Description}}
Frequently Asked Questions