Treat Your Dear Momma With These 5 Mother's Day Brunch Events in NYC
Are you looking for events for mom in NYC this Mother's Day? If so, we've got all the information here for you, including information on the promoters and event organizers that put together these fantastic events. Below is our list of the top five Mother's Day brunch events in NYC happening this Mother's Day weekend.
Couture Brunch Brings You Mother's Day Edition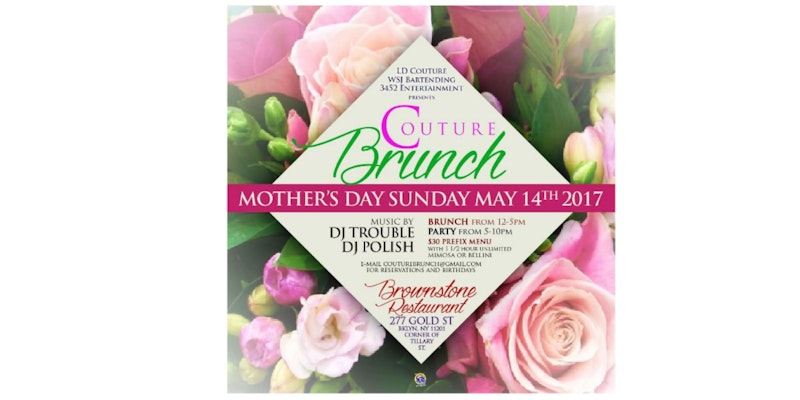 Date: Sunday, May 14
Time: 5 pm - 10 pm
Location: Brownstone Bar & Restaurant 277 Gold Street Brooklyn, NY 11201
Organizer: Couture Brunch
Price: $10
Tickets can be bought here.
Providing music by DJ Trouble and DJ Polish as well as great food and drinks, this event will keep mom rocking to music while she enjoys brunch and a party. Brought to you be event organizers Couture Brunch, they bring the best monthly brunch and day parties to a variety of NYC venues.
2nd Annual Mother's and Mimosas Pre-Mother's Day Comedy Brunch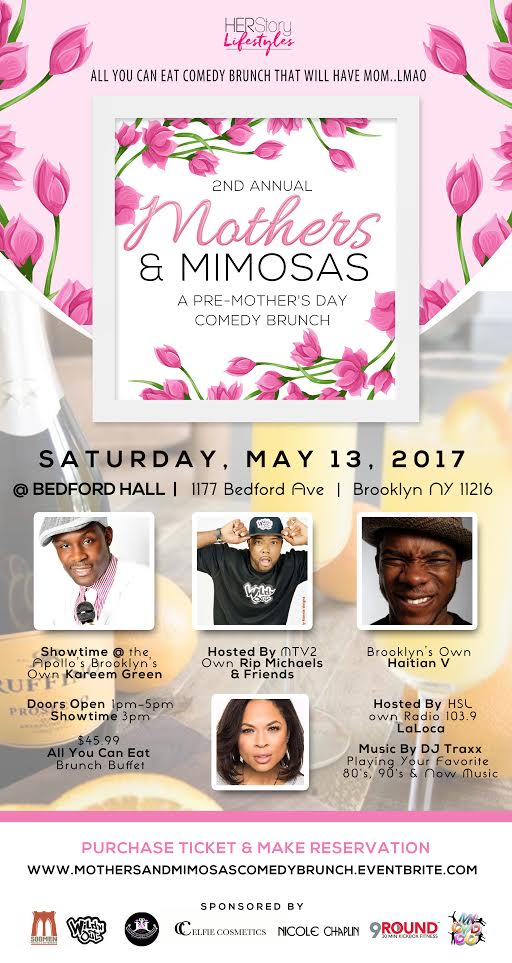 Date: Saturday, May 13
Time: 1 pm - 6 pm
Location: 1177 Bedford Avenue Brooklyn, NY 11216
Organizer: HERStory Lifestyles
Prices:
Comedy with Brunch: $45.99
Comedy only: $25.00
Tickets can be bought here.
If your mom loves Mimosas and comedy, then the Pre-Mother's Day Comedy Brunch is the event for her. Guests will enjoy an all-you-can eat brunch buffet filled with laughter. Organized by the planning agency HERStory Lifestyles (HSL), HSL works to provide women from all walks of life a variety of master classes, conferences, workshops, and fun to bring them together at various NYC venues.
Beautiful One's NYC 2017 Mother's Day Brunch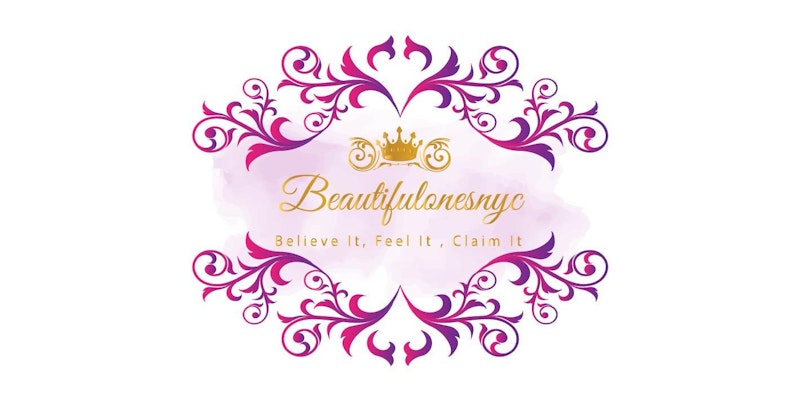 Date: Sunday, May 14
Time: 11 am - 7 pm
Location: 333 Lounge 333 Flatbush Ave Brooklyn NY
Organizer: Valarie, beautifulonesnyc
Prices: Free
To Register, go here.
The Beautiful One's NYC 2017 Mother's Day Brunch features three different brunch seatings to accommodate attendees' schedules, 11 AM to 1:30 PM, 1:30 PM to 4 PM, and 4 PM to 7 PM. This brunch offers tasty food and excellent beverages featuring Chef Roe, and music for mom by DJ One. The event is planned by Valerie from Beautiful One's NYC, a group of event organizers acting for both women and mean interested in wealth building through real estate, investments, insurance, and financial trading.
Dear Momma: A Mother's Day Brunch & Celebration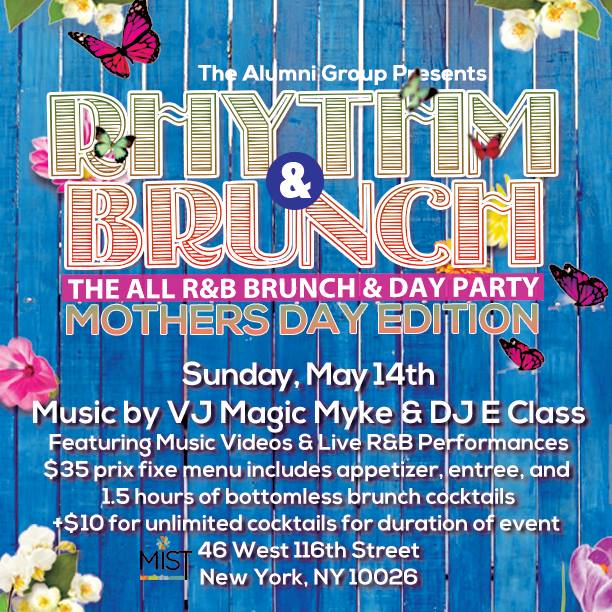 Date: Sunday, May 14
Time: 12 pm - 7 pm
Location: MIST Harlem 46 West 166th Street New York, NY 10026
Organizer: The Alumni Group
Price: Free
To register, go here.
If mom likes Rhythm and Blues, then she'll be in for a treat at the Dear Momma Brunch, an all day brunch and party celebrating Mother's Day. Live performances will be made by the R&B Boys, and mom can get down to some soul while enjoying excellent food. The Dear Momma brunch is brought to you by the Alumni Group (TAG), an event planning agency known for providing NYC with great brunches and day parties while catering to college-educated professionals. TAG's founder, Frandy Napoleon, relates to his college-educated focus as a sales professional himself who attended Brooklyn College.
Mother's Day Jazzy Champagne Brunch Cruise
Date: Sunday, May 14
Boarding Time: 12:00pm
Time on the Water: 12:30pm – 2:30pm
Location: Pier 40, West Village (353 West St New York 10014)
Organizer: Hornblower Cruises & Events
Price: $100
For tickets, go here.
Your mom can enjoy a fun two hour cruise with a bountiful brunch buffet filled with tasty food, deserts, coffee and herbal tea, and free refills on Mimosas and Sangria during the entire trip. On board mom can rock out to a live band and DJ, and enjoy some of the most beautiful views of NYC while on board. Presented by Hornblower New York, this event planning agency premier dining cruises and private event charters to the people of NYC.
For more information on Mother's Day events, stay with us here at EventCombo. Here at EventCombo we offer not only the best event information, but also give you the opportunity to sell your tickets online through our website.