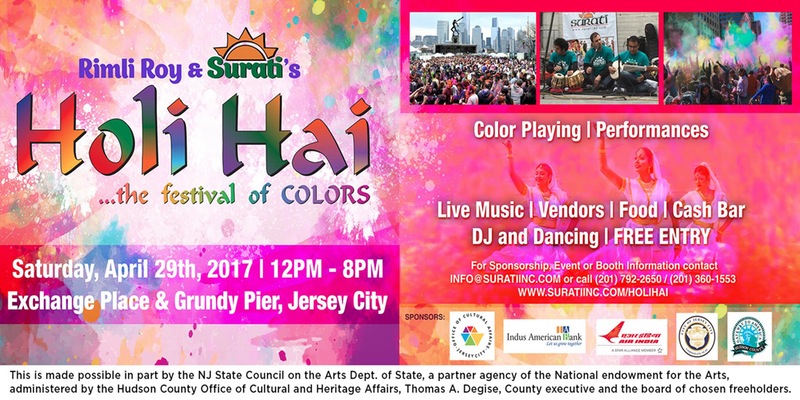 Join us on 29th April 2017 at Exchange Place, Jersey City for the Festival of Colors and a lot of fun and dancing!
https://www.facebook.com/events/344719905911570
The ancient Indian festival has various significances, the mostpopular ones being a celebration of the advent of Spring and the victory of good over evil. It's also a harvest festival in many partsof India. Throwing colors on one another is the most populartradition that is said to go back all the way to Hindu mythology.There are many stories about the relevance of colors in Holi butall of them point to the celebration of diversity. Also, there is a legend that Holi is named after the death of the dreaded demoness Holika, and a bonfire is lit to signify the burning awayof all negative energies.
Our Holi focuses more on the celebration of diversity. We believe that Holi celebrates our differences, and makes us all into one as we get together to lovingly smear colors on each other. When everyone is colorful, no one is different and everyone is equallyspecial. Surati for Performing Arts and Education has been organizing Holi for the last 8 years. What started as a small gathering in Journal Square, moved to Hamilton Park and finally to Exchange Place three years ago and has grown dramatically.Thanks to the love of all the people who support us in large numbers. Our guests are said to travel across states to attend our festival. JOIN US!