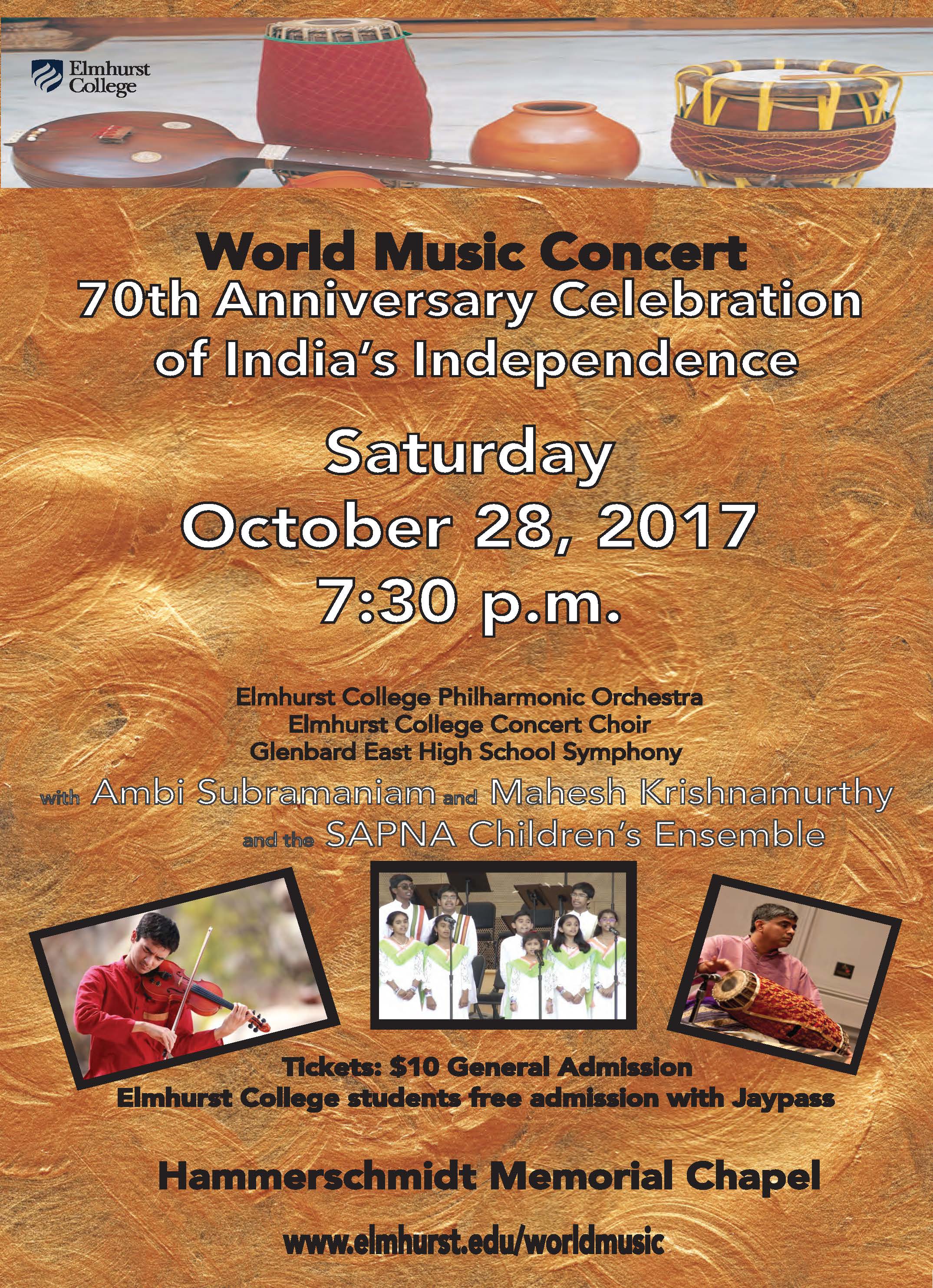 Elmhurst World Music 70th Anniversary of India's Independence
The Elmhurst College Philharmonic Orchestra held its first annual World Music Festival in 2011 at the encouragement of guest lecturer Srini Krishnan, Headmaster of the School of Music in Chennai, India that was founded by A.R. Rahman, composer of Slum Dog Millionaire. That festival was such a great success that it subsequently became a regular event on campus, transforming into a series in 2013 with multiple events throughout the academic year. Featured programs have included Global RhythmsMusic of India, Olé! The Musical Influence of Spain, RUSSIA! The Music of Brazil, Italy, & France, and KONTRAS! Music of Contrasts. Guest artists have included Celtic fiddler Liz Carroll, steelpan player Liam Teague, Russian cellist Ian Maksin, Mullane Healey Godley Irish Dancers, and the Mexican band, Mariachi Real de Jalisco. 

Important in choosing music for the Elmhurst World Music Festivals has been the requirement that the Philharmonic Orchestra be included in the performances. Many world music festivals feature soloists and small ensembles, but the Elmhurst festival always seeks to include a fusion of music that can be performed by a traditional symphony orchestra with music that is indigenous to the particular culture. Dr. L. Subramaniam, composer of Bharat Symphony, has done just this... he has written a beautiful work depicting the history of India, incorporating the sounds, colors, and textures of the traditional symphony side by side with singers and instrumentalists particular to India. Tabla, solo Indian voice, guitar, classical Indian violin, and folk tunes of India are beautifully intertwined into the landscape of the symphony throughout this work.

Joined by Ambi Subramaniam (violin), Mahesh Krishnamurthy (mridangam), the Elmhurst College Concert Choir, and the Glenbard East Symphony Strings, this concert is one you will not want to miss!!